Nela Marinović
Clever International School, Adi Endrea 34, 21000 Novi Sad, Serbia; n.marinovic@cleveris.org
– published as a website article, to be included in Volume 1, Issue 2 of the AIDASCO Reviews –
The Clever Junior School school was founded in 2015 with the vision of becoming not only a place for learning but also a place where great and good people develop who will devote their lives to positive values and who will know how to pave their way to a happy and prosperous future. Our school provides education that helps improve students' physical and mental growth. We develop academic and many other skills, including good behavior, tolerance, successful communication, responsibility, time management, and a healthy lifestyle. From their earliest childhood, it is the place where our students make new friends, and these friendships continue throughout their lives. Since imagining a world without school is hard, we help them learn how to lead a good and balanced life.
Our bilingual teaching methods combine the Cambridge approach, which means that learners can work towards a Cambridge qualification through the medium of English while also following our national curriculum. Our students develop an informed curiosity and a lasting passion for learning. They also gain the essential skills they need for success at university and in their future careers.
Our particular dual program focuses on introducing students to various subject areas and helping them obtain a high level of English. The curriculum includes English Language and Literature, Science, German, Music, Physical Education, Geography, Mathematics, Computer Science, Serbian Language, Art and Design, World History, and Global Perspectives.
Vision: Our school provides quality teaching and fosters good inter-ethnic relations, mutual respect, tolerance, love, understanding, and respect. Our school provides a welcoming, happy, and safe environment where learning is encouraged, we are all equal, and positive human values are rewarded.
Mission: Our school aims to provide quality education for students from different cultural backgrounds and strives to make our international diversity our advantage and to connect us to apply good practice in the teaching process and strengthen partnership relations between employees, dedicated parents, and local communities.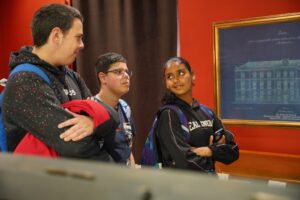 Our goals: Our goal is to create an atmosphere of acquiring knowledge based on modern trends and challenges, current research, and the continuous training of our teachers. We set high standards and are proud of the balanced use of traditional and modern technologies in teaching. We strive to develop analytical and creative thinking, use different sources of knowledge, and thus face challenges and successfully solve problems.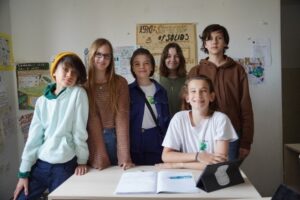 We want to teach our students how to set priorities, define their goals, take responsibility, and thus monitor their development and evaluate their results. Our goal is for our students to understand the world they live in, to be able to explain the phenomena that surround them, to express their interests freely, and to discover their possibilities. We aim to help students worldwide overcome the adaptation period in the new environment by fostering a high degree of tolerance, respect for diversity, and team spirit.